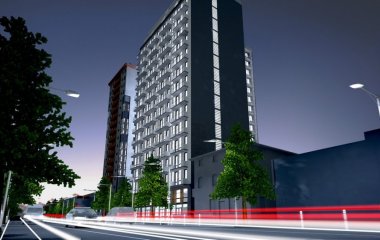 Project Description:
The complex is located in the central area of the city. Another elite residential house distinguished by the construction style, quality and modern approaches. The main goal is to build comfortable and quality residential houses. Considering the climatic conditions of Batumi, the façade of the building will be finished by thermal and heat insulation layer, for the purpose of ensuring sustainability of humidity within the building. The apartments are handed over in the form of the white framework. The prices and conditions are tailored to the customers. The customers may also use the mortgage loan at our partner banks.
Infrastructure and Services:
- Security
- Cleaning
- Video surveillance
- Green yard - Parking area
- Entry code system.
Around the complex:
schools, kindergartens, banks, recreation centers, hospitals, shopping centers etc.
Location
– Chavchavadze Street
Number of floors
– 17
Status
– Under construction
Construction finalization date
– December 2019
Advance payment:
30%
Internal interest-free installment payment:
0%