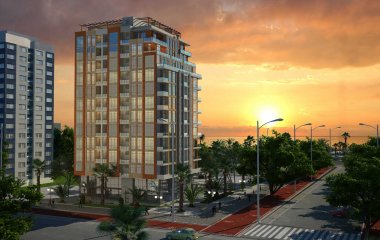 - Project Description:
Sea Star Building – a house of the new generation is built in accordance with the US and European standards, pursuant to all new construction regulations of Georgia. It is characterized by non-standard architectural solutions which makes it different from the standard constructions in Batumi. All apartments are handed over in the form of the white framework and has free layout, comfortable areas, high ceilings (2.95), as well as high index of temperature and noise insulation. There are two elevators – passenger and service – in the complex which are adapted for fitting a stretcher. In case of power outage, the elevators continue working automatically.
Infrastructure and Services:
- Reception
- Bellboy
- Security
- Cleaning
- Video surveillance
- Rental service
- Improved and green yard
- The building is equipped with the fire safety system.
Around the complex:
New boulevard, entertaining and health centers, new and the largest casino in Georgia – "Eclipse", shopping centers, airport.
Location
– New boulevard
Number of floors
– 12
Status
– Under construction
Construction finalization date
– August 2020
Advance payment:
30%
Internal interest-free installment payment:
0%