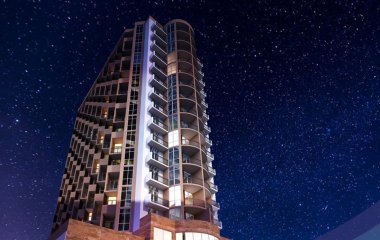 - Project Description:
The complex is located in the developing area of the city, in the vicinity of the main infrastructure and leisure facilities. New transportation hubs coupled with convenient location shorten the distance from the house to the beach and any part of the city. The construction was finalized in full compliance with modern technologies, using high quality materials by qualified construction engineers. The building is equipped with water- and moisture-proof materials. Networks, water, sewage, power supply, gas supply equipment is installed by highly qualified specialists, considering international standards. The entrance is equipped with modern passenger and service elevators. The least area of apartments is 31.1 square meters.
Infrastructure and Services:

- Security
- Cleaning
- Video surveillance
- Green yard
- Parking area
-
Around the complex:

schools, kindergartens, banks, recreation centers, hospitals, shopping centers etc.
-Location – Bagrationi Street
- Number of floors – 18
- Status – Finalized
- Construction finalization date – December 2018
- Advance payment: 30%
- Internal interest-free installment payment: 0%