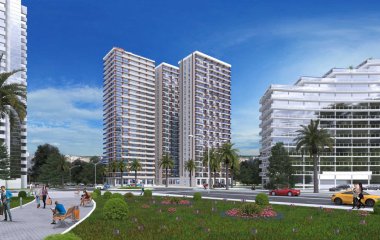 - Project Description
: AISI is multifunctional premium class hotel type 26-storey complex in the new boulevard of Batumi. The first floor of the building is designed to be used as commercial premises. A hotel is located up to the fifth floor and hotel type apartments are located on 6-26 floors.
Infrastructure and Services
:
- Reception
- Bellboy
- Security
- Cleaning
- Video surveillance
- Rental service
- Improved and green yard
- Terrace and child area on the 2nd floor - Lounge bar on the 27th floor with the best views
- The building is equipped with the fire safety system.
- Around the complex
:
New boulevard, entertaining and health centers, new and the largest casino in Georgia – "Eclipse", shopping centers, airport.
- Location
– New boulevard
- Number of floors
– 26
- Status
– Under construction
- Construction finalization date
– September 2021
- Advance payment:
30%
- Internal interest-free installment payment:
0%