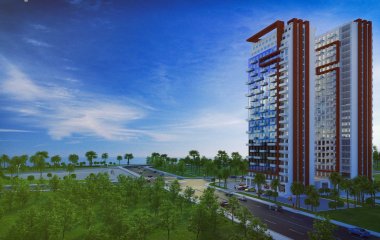 Project Description:
AISI is multifunctional premium class hotel type 26 and 24-storey complexes in Batumi boulevard. The first floor of the building is designed to be used as commercial premises and residential apartments are located on 25 floors. All conditions for comfortable leisure of your family and you are created in the complex. The façade is treated with a special method ensuring heat conservation in winter and coolness in summer. The minimum area of apartments is 35 square meters. Each apartment has wonderful sea, mountain and city views.
Infrastructure and Services
:
- Reception
- Bellboy
- Security
- Cleaning
- Video surveillance
- Rental service - Improved and green yard
- Terrace and child area on the 2nd floor
- Lounge bar on the 27th floor with the best views
Around the complex:


New boulevard, entertaining and health centers, new and the largest casino in Georgia – "Eclipse", shopping centers, airport.
- Location
– New boulevard
- Number of floors
– The first block – 24 floors, the 2nd block – 26 floors
- Status
– Under construction
- Construction finalization date
– September 2021
- Advance payment
: 30%
- Internal interest-free installment payment
: 0%